Great design is built
on great feedback
Loops gathers step by step feedback on designs from users, team members and stakeholders in one place, then turns it into clear data and actionable tasks.
Watch the video
Run design reviews, user-research and more straight from your design tool
Gather structured feedback in
seconds
from teams, stakeholders and customers
"The process was so smooth, all we needed to do was send a link to our users, and they then started commenting. Having that kind of insight from real users is so important when you're making fundamental changes to your product"
Jonathan Chong
CTO @ THE OUT, powered by Jaguar Land Rover
Loops is great for
Design reviews & critiques
Run synchronous or asynchronous sessions and set feedback deadlines to ensure a timely response.
Qualitative research
See as users annotate concepts in realtime then filter and add to a tasklist for the next steps.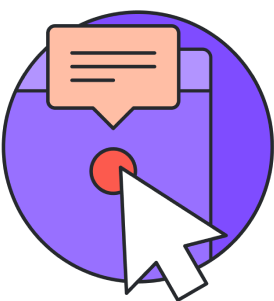 Design experiments
Select areas on your designs and test assumptions with 100s of users at once.
Preference testing
Gather opinions on concepts and use machine learning to instantly determine which are preferred.
Copy testing
Test whether users understand your copy, or if they're confused, understand what they feel would be better.
Stakeholder alignment
Bring everyone relevant into the conversation without the need to access your design tool.
Loops saves time and money
Reduce time spent on product development cycles
Companies that invest in feedback during concept phase reduce time spent on product development cycles by 33 to 50%.
Source: Interaction Design Foundation
Catch issues before build and avoid huge costs
The cost of fixing an error after development is 100 times that of fixing an error before development of the project is completed.
Source: Dr Susan Weinshenk
Improve the experience and increase conversion
When UX feedback improves the customer experience, it raises a company's KPIs up to 83% in conversion lift.
Source: Jacob Nielsen